@tlas Insights
ST Goals
Your business plan probably makes (or at least endeavors to make) the case that your product or service will be better/bigger/faster than the incumbents in your particular market and that, because of your advantages, you will be able to gain market share (or create a market) and dominate it or some part of it.
It's that long-term objective that will attract investment and it's material penetration that creates an exit opportunity for your business. But getting there is done in stages and failure to embrace a step-by-step mindset invites torpidity. We have been witness to rudderless management from time to time. Founders sometime focus exclusively on the long-term plan; they forget they're supposed to be building or selling something. We had one client who devoted the vast majority of his time to improve the "story" over the course of six months while the company released no features, signed no customers, nor engaged with any partners (yes, the company died and the founder continues to sell his empty vision).
I'm a fan of re-hashing management philosophies. Since so much of management is common sense, there's a good deal of wisdom in dated issues that retain contemporary value. In 1986, Tom Peters told us that What Gets Managed Gets Done (and I'm sure he wasn't the first). startups that ignore this simple rule can find themselves on the highway to a down-round. There's plenty to measure in your early-stage company. Sure, the management books tell you about thru-put or other measures of operating efficiency but, trust me, there's plenty to measure. In startups, it can be just a little harder.
Focusing on short-term objectives doesn't always mean sales, but if there is a product or service to be sold, then that's got to be monitored. Take, Escapia. Escapia offers two products: enterprise software for vacation property managers and vacation rental information for consumers. As the company heads into its Series B funding, we sell the story of dominating both markets. But inside the company, we think about something else. We think about next week. In fact, throughout the four months leading up to the Series B, we'll take ten minutes each Monday and review last week's numbers. We have four metrics charts (one is shown here). In the "Monday Jam" (blame Bill, the CEO if you don't think it's catchy or enthusiastic enough), the responsible manager posts last week's results on the weekly chart and tell us what he's doing to improve this week. The entire company joins us for this. The result? We routinely exceed our aggressive goals and drive performance that investors are watching. Heck, we even gave the VP of sales a bell (he demurred on the air horn) he rings for success on major accounts. We want the organization to constantly remember that this matters.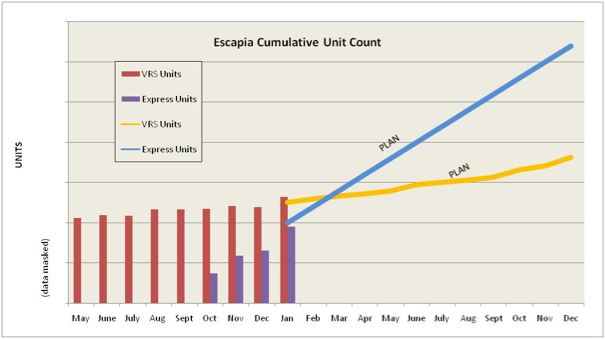 If you're not yet closing deals, there's the pipeline. And it's easy to create one that's quantifiable. I like the idea of assigning definitions to stages of a deal which represent probabilities. For example, 20% for demo, 40% for demo to the decision maker, 60% for requested and submitted proposal, 80% for acceptance of all terms, 90% for verbal approval and 100% for signed contract. Each company should have their own since hurdles vary (we had a client selling enterprise software to local governments and the final stage from a PO to a signed agreement was so speculative that we held back 25 percentage points for it). Multiplying the size of the opportunity times the probability yields a probability-weighted opportunity and summing all such opportunities yields a probability-weighted pipeline – an excellent measure that changes weekly (and, thus should have weekly targets).

And for those who aren't yet selling, there's the dev milestone chart. One of our clients, Fyreball offers a communication platform for rich media. The company is pre-revenue and likely will be for some months.
But Fyreball will be raising a Series B this summer. Rather than just update the business plan, it's time to focus on the dev milestones and more. These milestones include items that can change week to week, important release dates, and even some partnerships that matter. At atlas, we're fans of an overall company milestone document that brings all disciplines together. When the CEO watches these and keeps the team focused on them, the company gets closer to a successful funding event.
What gets measured gets done. Trite? Maybe. True? Yep.